Review: Who Let the Gods Out? Maz Evans.
15:28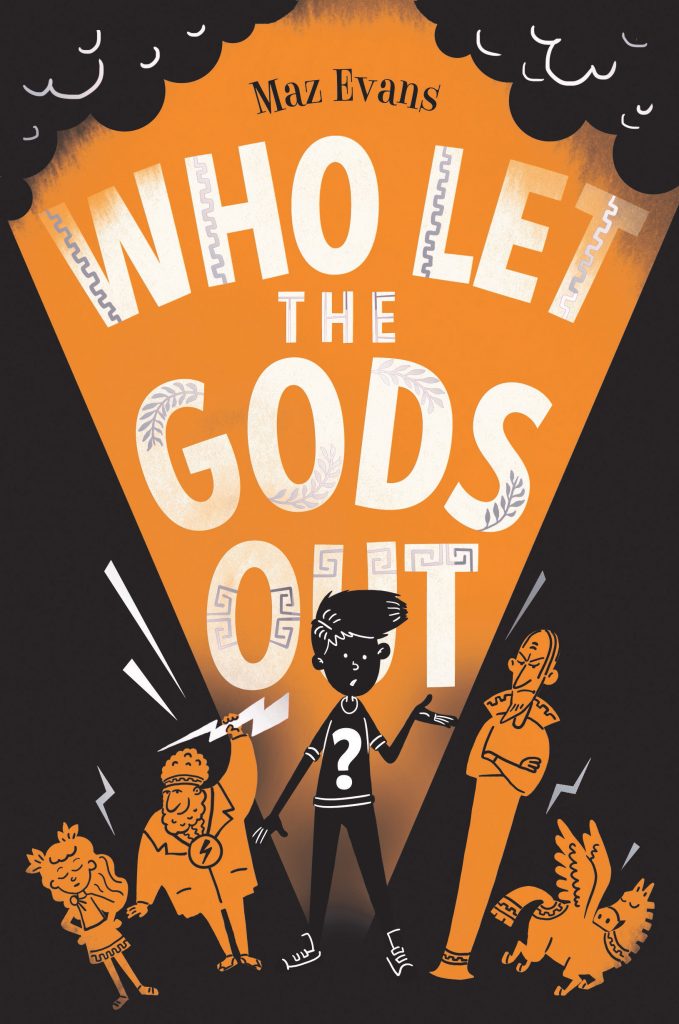 Extract:
'…technically he'd need his Chaos Stones back and then he could attack mortals with earthquakes, hurricanes, floods and infernos,' said one Gemini twin, earning a slap from the other. 'Not that we have any knowledge of that.'

'So you look after the immortal community but when something serious happens, you're not going to do anything?'

'We are a council,' explained Taurus. 'It's not our job to actually do anything. We just have to file the correct paperwork.'

'Thantos is dead. And even if he weren't, it's not up to us to wage war on vengeful Death Daemons,' added Pieces. 'Not that there are any of those. And if there were, we'd know nothing about them.'

Who Let the Gods Out? Maz Evans, pp105 – 106.
Chicken House
Publication Date: 2nd February 2017
ISBN: 9781910655412
Number of Pages: 368
You could say it is a bad week for Elliot. If he doesn't get 85% in the next History test he will be expelled. He's got to magic up £20,000 for a loan company or he and his mother will lose the family farm. His mother is incapable of looking after either of them. Oh, and now he is responsible for letting lose Thanatos, Daemon of Death.
Partly responsible. Virgo was supposed to stay in Elysium and deal with the stationery order. The rest of the Zodiac Council think she is too young to deal with missions to Earth. She's only 1964. She's just proved them right – it is her fault Elliot was anywhere near 'Prisoner 42'. The thing is, life in Elysium is just too 'perfect'. After 1964 years, Virgo wants to see something new.
Then… yep… four stones to find, hidden across the realms… and only Elliot can save mankind. It sounds like a standard quest, but what Maz Evans does well is humour. I'll confess I bought the book when the nice lady at Waterstones said I could have an extra one half-price. I had spent enough already – hung for a Chicken House as an egg and all that. And I wanted to know what the fuss was about. I find it interesting that I am the first to admit to reading Middle Grade fantasy, but when it comes to humour… well… I'm a bit grown up and all that…..
This served as a healthy reminder that kids like humour, and there are some genuinely funny ideas about what the Greek Gods might do in the modern world. I preferred the first half of the story. Most of the adults around him think Elliot is in the way. There's Mr Boil, who prefers to engineer his pupils' expulsions than actually teach them. Then there is Patricia 'Horses-Bum', who would take advantage of Mum's illness to buy and demolish the family farm. In irony worth of Dahl, everyone but Elliot either behaves badly or fails in their responsibility towards him. Later, I felt that irony was lost to humour for humour's sake (murderous sleepwalking Beefeaters? Perhaps if I was nine.)
Evans is also observant of real-life. The human world is sent-up more often than the immortal one, often through the depiction of Gods conforming to human stereotype.
The question of what will happen to Elliot's home holds the plot together. Little else remains a question for long – problems are solved quickly to allow for more action-packed sequences. In that sense it would be a brilliant book for reluctant readers, who might grow impatient with plot twists. It would have been nice to have illustrations throughout the book – the cartoon-style Gods on the cover suit the narrative perfectly.